Chelsea
Currently living in: Garland, UT
Available to Start: Start Date Is Flexible

I got started in childcare when I was 8 years by helping my very large immediate family. I have babysat many times for my family members and also for members of my church throughout the years. I was a nanny in 2008-2009 for a single mother of a premi baby boy. I helped her with errands and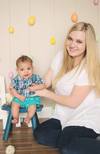 Chelsea
Currently living in: Garland, UT
Available to Start: Start Date Is Flexible

I live in Utah and have a really big extended family! I have taken care of kids for almost my whole life. I was also a nanny for my cousin Jamie and her newborn for a year. I made and fed him bottles, changed his diapers, bathed him, ect..From June 2014-November 2014 I took care of 3 children. An ..


Michelle
Currently living in: Garland, UT
Available to Start: 2016-08-08

I've worked as a daycare provider for 4 years and have also worked with the boys and girls club for the last year. I have taken cared of infants all the way to 12 year old kids. I have been around kids my whole life growing up with a mom that did daycare all my life. I am going into elementary