Abrielle
Currently living in: Loretto, MN
Available to Start: 2017-06-10

I come from a family of 17 children so I started babysitting at a young age. Ever since then, our family has grown with nieces and nephews which leads me to more babysitting/nannying! I like to be active with the kids I watch whether it is playing outside, doing crafts, baking etc. One of the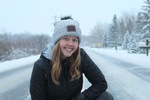 Brandi
Currently living in: Loretto, MN
Available to Start: Start Date Is Flexible

I worked as an assistant teacher but I took time off during the summer and my job was filled when I got back. I do however come from a large family of 9 kids so I do have lots of experience! I also nannied for my brother and sister in law while they both worked and they have 2 children one is 3 ...


Sandra
Currently living in: Loretto, MN
Available to Start: Start Date Is Flexible

I have more than 12 years of professional nanny experience. I have worked with four families in that time. I have always been full time, so my experience includes everything from getting the babies/children up for the day to putting them to sleep, and everything in between. I have taken two