Next Page >>
Showing 1 - 10
»
Nannies Near 91306
Elyanira
Currently living in:
Inglewood, CA
I started babysitting right after I came to the USA back in the early 1990's. taking care of children of different ages, from new born babies, to 9 years old, for several families

Ana
Currently living in:
West Hills, CA
Over 25 years working with newborns, infants and toddlers.

Chantal
Currently living in:
Valencia, CA
Very educational seeing on how my first nanny position was with an adorable 5 yr old boy with Autism, an extremely brilliant 2 yr old girl, and their overachieving 11 yr old sister. I had to be quite creative in keeping all three - with completely different behavioral, educational, and developmental ...

Emma
Currently living in:
West Hollywood, CA
I have 11 years of childcare experience with all ages, ranging from babysitter, nanny to art teacher. It has been a job that I love doing ever since I started in high school. I have been a nanny to families for up to 3-4 years and developed a wonderful relationship with the families that I will ...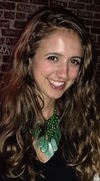 Ari
Currently living in:
Calabasas , CA
I have plenty experience working with kids, as I worked at a daycare with kids ages ranging from 4 months- 4 1/2 years. I have also nannied and babysat for two sets of twins. First set of twins were five months, and the second of twins were two years old. I also worked at an after school day ...
Janalyn
Currently living in:
Los Angeles , CA
I have experience as a babysitter and a day time summer nanny. I also have 3 nephews and 3 nieces ranging from 5months to 14yrs that I regularly look after. I am a RN in a pediatric icu as well so I have experience working with children in the hospital.
Brooke
Currently living in:
Los Angeles, CA
Hi! I've been a nanny & babysitter for multiple families over the past 10 years including being a preschool teacher and a private school. I was born and raised in Texas and moved to California about 3 years ago.

Danielle
Currently living in:
Westchester, CA
I have been a Nanny and a babysitter for several families in the Los Angeles area with children ranging in ages infant to 12 years old. I have been responsible for meals, transporting to school and activities, learning development, and of course making sure everyone has fun as much as possible! I ...

Katherine
Currently living in:
Canoga Park , CA
I have work as a preschool teacher for the last 8 years I enjoy teaching helping children develop their interest
Eli
Currently living in:
3055 Stocker Pl, CA
4years
Next Page >>