Next Page >>
Showing 1 - 10
»
Nannies Near 60159
Shannon
Currently living in:
Bloomingdale , IL
Hi, my name is Shannon. I am 26 years old and I love kids! I have several years of experience. I have been babysitting since the age of 13. I previously worked at a daycare for 3 years. I was an instructor for a children fitness class. I have also worked as a nanny/mothers helper for 2 different ...

Maria
Currently living in:
Melrose Park, IL
Being work with new borns,toddler and school age has been wonderfull. Love to interact with children, and being part of their life,
jessica
Currently living in:
Lake Barrington , IL
My experience includes a child care center I worked in where I had up to six children at a time. The youngest being about 8 months and the oldest about 10 yrs old. I loved my job there as well as had some kids that loved me! I would have certain parents only bring their children only if I were to be ...
Miriam
Currently living in:
Palatine, IL
I'm a young single mom of 3 kids 4 years old , 10 years old and 12 years old also i can make the best cakes and pastery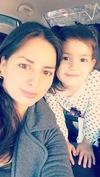 Scherrie
Currently living in:
Schaumburg, IL
Children bring joy to the world and to me it fills your heart with warm and compassion to watch them grow and become special people if people would act more like children the world would be a better place
Tomicka
Currently living in:
Las Vegas, NV
As a Pre-teen I used to babysit for my next door neighbors. I did that for about two years until i moved away. It was a family of four kids, a set of twins included. I cooked for them, cleaned the house, we played games,and watched movies. As I got older I enjoyed being around kids. I helped my ...
Stephanie
Currently living in:
Winfield , IL
I have 12 enjoyable years of professional childcare experience. Five of these years were spent in a daycare setting working closely with infants and 3-5-year-olds. For four years I was a full-time nanny/housekeeper caring for two children. I am currently nannying part-time for a family I've been with ...

michelle
Currently living in:
Martinville, VA
will i am a live in naany now just look for nite work

Jaci
Currently living in:
Palatine, IL
I have worked with children for over 15 years in various roles ranging from preschool teacher to full time nanny. I have experience with multiples and children ranging from newborn to 13 years old. Aside from caring for the children in my care, I'm also willing to do family laundry, light ...

Donna
Currently living in:
Palatine, IL
I have 30+ yrs experience with child care/personal asst for ALL ages! I'm very reliable,flexible, energetic, and trust worthy to meet your family's needs.I love being considered an extension of the family....helping make life a little easier when ever I can!

Next Page >>