Next Page >>
Showing 1 - 10
»
Nannies Near 33101
Jany
Currently living in:
Aventura, FL
ABOUT NANNY POSITION ...

Claudia
Currently living in:
Sunny Isles, FL
my experience in care of chindren was the last year, one boy of 14 ages

Angela
Currently living in:
Fort Lauderdale, FL
I am very active person. I like to intertain children. I like to do many activities take them to the zoo, museum, educational activities. I enjoy read books and craft, colors and talk to them in a kind voice to make them feel happy and well taking care.
carmelaelle
Currently living in:
Miami, FL
It was great and amazing. I learned a lot.
Lindsey
Currently living in:
Miami, FL
I began babysitting when I was 14 years old which initially started with a neighbor of mine that had two young girls. Eventually I started babysitting many families in the town I lived in, whom had up to four kids and the youngest being 5 months old.

Rosangela
Currently living in:
Miami, FL
I served as a Nanny for an 11, 7, and 2 year old for 1 year in 2007. When the family moved in 2008, I started working as a nanny for a baby that was 7 months old when I started. The family found me on nannies4hire. I worked for the same family until February 2017. I am still very good friends with ...

stefany
Currently living in:
Miami Gardens, FL
My name is stefany Rodriguez, I reside in miami and I have had several years of experience with children. For the past two years I have been babysitting a ten year old girl. I picked her up from school and took her home, helped her with her homework, prepared dinner and made sure she went to bed ...

Ana
Currently living in:
Miami, FL
Hello, my name is Ana, I'm 24 years old and I would love to take care of your babies. I have experience babysitting children and want to continue gaining experience. I speak English and Spanish. I really love taking care of infants and young children. I have a passion for teaching and caring for ...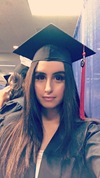 Lynn
Currently living in:
Port Richey, FL
I am excited to be a part of a family where I can be a part of the fun of teaching ABC's and word cards while having fun at play time. I have 17 years of experience working in the school system which gave me a love for educating while having fun.
Isabel
Currently living in:
Miami, FL
I had a newborn baby until she become a toddler , and took care of two children 10 months and 3 years old until they moved away . I took care of 3 year old and 4 year old until they were sixteen .
Next Page >>