Next Page >>
Showing 1 - 10
»
Nannies Near 28501
Jennifer
Currently living in:
Kinston, NC
I've been working with children for 16 years!!! I have a ton of credentials and certificates from classes I've taken threw the years.
Cameron
Currently living in:
Winterville, NC
I've spent the last 3 years as a full-time nanny. I also have experience working in a daycare center, as well as babysitting jobs, and teaching Sunday school and children's church. I enjoy working with children of all ages. I enjoy watching them grow and learn new things. I enjoy reading to ...
Katherine
Currently living in:
Greenville, NC
I worked approximately two years at a preschool in Greenville NC. Every summer for the past three years I have nannied for a family that has recently relocated. I have also been babysitting since I was 12 and have a lot of nieces and nephews.

shannon
Currently living in:
Charlotte, NC
Nanny for all aged children. In my home school aged summer day camp. Swim instructor. Iceskating instructor. Nanny for infant and 3 year old, part-time for 7 years. In home summer day camp for 5, nine year olds.

Erica
Currently living in:
Goldsboro, NC
LOVING,GENTLE,EXPERIENCED PROFESSIONAL NANNY AVAILABLE I am a Nanny Personal Assistant for executive families who have needed educationally-based premium childcare, cuddling, tender infant care, and eagle-eyed , high energy toddlercare in their homes. I have provided expert quality time management ...

Joann
Currently living in:
Pink Hill, NC
Much of my life has been spent around younger children. I have a degree in elementary education with a proficiency in English and taught for two years in various situations. I am prepared to provide stable, calm, reassuring, caring, kind,safe, and consistent care for a child/children. All attention ...
Skyla
Currently living in:
Goldsboro, NC
I have taught preschool for over ten years. I have also ran and planned summer camps ages 6 weeks to 16 years
Christy
Currently living in:
Goldsboro, NC
I have my Technical College Certificate from Central Georgia Tech. I am also CPR certified and I am one semester from getting my associates degree in Early Childhood Care and Education. I have been babysitting since I was 13 years old. I have babysat children from infancy through 5 years old. I am ...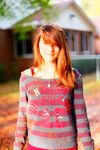 Melissa
Currently living in:
Greenville, NC
Psychology field experience with small group and one-on-one tutoring integrating holistic approach learning as well as social, affective, behavioral, emotional regulation for at risk children in an educational setting
Mallory
Currently living in:
Greenville, NC
I have 5 years experience working in a licensed childcare facility as well as part time nanny experience.
Next Page >>