Next Page >>
Showing 1 - 10
»
Nannies Near 60012
Ruth
Currently living in:
Elgin, IL
While I have never been paid to care for children, I have cared for large groups of children ages 3-16 through my immediate and extended family. I also babysat for groups of children at my church ages 2-11
Ana
Currently living in:
Hoffman Estates, IL
Provided infant care until he was 5 years which includes but not limited to routine feeding, diaper changing, story time reading, library visits, walks in the park, and showing attention to the child.
Anna
Currently living in:
Mount Prospect, IL
I took care of 2 of my nephews for a few years before they went to school full time. One has special needs. He is wheelchair bound and has a feeding tube. I have experience with nasogastric and gastric feeding tubes.
Kelly
Currently living in:
Algonquin, IL
I have watched children from infancy all the way up to middle school. Handled pickups drop offs, changing diapers, meal prep, getting to activities on time, assisting with homework, and keeping the children active and engaged throughout the duration of my scheduled shift
Hanna
Currently living in:
Chicago, IL
I have been working with families pass 10 years. I have big experience with all ages of kids. I workd with one family for 6 years and been there when 2 kids were born. If you interested in live in nanny please contact me. I may have solution for you and your childcare needs.
DAWN
Currently living in:
Fox Lake, IL
I CHILDREN I HAVE CARED FOR WERE INFANTS-TEENS FOR 18 YEARS.
MARILOU
Currently living in:
Elgin , IL
10 years experience of child care in Hong Kong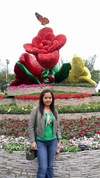 adriana
Currently living in:
Lake In The Hills, IL
I worked for family with three boys(almost 2,4,6 years old).I start with part time then I worked for them full time.I provide good care of them.References upon request. ...

Samantha
Currently living in:
Vernon Hills, IL
I have been working with children since I was a child. When I was eleven years old, I attended my neighbor's home daycare after school. I always wanted to help with the younger children, so my neighbor taught me what to do. When I was too old to need her care, I was the only person she trusted to ...

Dawn
Currently living in:
Mchenry, IL
Associates in early childcare. Worked in day cares, Director qualified, all ages. Worked as a nanny past seven years.

Next Page >>