Next Page >>
Showing 1 - 10
»
Nannies Near 06098
Aurora
Currently living in:
Winchester, CT
10 year as a housekeeper and nanny. I've been ...

Rhonda
Currently living in:
New Hartford, CT
I was a nanny for 8.5 years before opening my own in home daycare. I ran that alone for 17 years. I've worked with children from infancy through upper elementary school. I've worked with children with autism, ADHD, sensory issues, and of all energy levels.
Zodwa
Currently living in:
Union City, NY
i am zodwa,i am flexible in working for your family and am fully matured,i have experience in looking after all age group of children,preparing snach,breakfast,dinner and doing their laundry will also take them for activities or to the park will teach them,drawing and can read them stories and can ...
Christina
Currently living in:
New Britain, CT
Experienced elderly and special needs caretaker. Caring, focused, adaptable, patient and strong; performs the day-to-day activities of care giving in a cheerful, supportive manner. Years of experience in care giving for elderly as well as children of different ages. Willing to babysit for children ...
Alyssa
Currently living in:
Newington , CT
Other than raising my own 3 kids. I have been a nanny to another family who Ives found on care.com. Their child is now going to school in the fall and I am no longer needed. I have experience with cloth diapers. I am understandable with common sickness even if it means exposing my own son. I am ...
Agnieszka
Currently living in:
Derby, CT
Hello.My name is Agnieszka(Aga). I have been nanny for over 10 years.I love spending my time with kids since they are born.Watching them from being just litlle, precious babies, growing and having their own personalities and becoming kids with strong values and good hearts.I think the most important ...
Donna
Currently living in:
Farmington, CT
I cared for a family with 4 children ranging in age from newborn to age 8. The mother had life threatening complications after giving birth to her fourth child. The father worked in another state which was about a 10 hour drive each way. The family was brought to stay at the fathers parents working ...

Elizabeth
Currently living in:
Burlington, CT
I have a Bachelor's degree in art education and have had years of experience teaching art to children ages 2-18. I have worked at an educational daycare in the past and only left because I did not approve of the way they disrupted the children's day by moving them to different classrooms. I have been ...
Jennifer
Currently living in:
Barkhamsted, CT
While I haven't babysat many children for families, I am a mother of 4 3 boys and 1 girl .. Ages 15-23. I've driven school children for at least 7 years...driving school,bus, or a school Van for children with disabilities.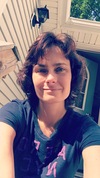 Mariah
Currently living in:
New Hartford , CT
I have watch kids for 8 years in daycare and babysitting?
Next Page >>