Next Page >>
Showing 1 - 10
»
Nannies Near 84402
Brittany
Currently living in:
Layton, UT
I started babysitting when I was ten years old. And have continued to do so over the years. I also have held several callings/positions in the church that I attend that requires me to teach children. I also currently spend time with my young nieces and nephews.
Richelle
Currently living in:
Centerville, UT
Hi, my recent nanny job, of 3 years, no longer needs me. So, I am looking for a newborn to care for (because they are my favorite). I would prefer to work 2-3 days a week 8:30ish- 4ish. If you live close to Centerville, I would love to care for your new precious one =). My experience includes working ...
Jennifer
Currently living in:
Ogden, UT
I have been babysitting since I was 12 years old. I took a child development class in high school and was given a job in the school day care upon graduation. I was a nanny for a family for 1 year before the husband joined the military and the family moved. I was then a nanny for a family with 3 ...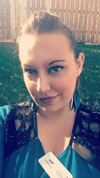 Victoria
Currently living in:
Roy, UT
CNA Baby Sitting in Layton. Baby sitting Nieces and Nephews.
Brianna
Currently living in:
Kaysville , UT
As a Retail Manager for over 10 years, I have gained a well-rounded industry experience in customer service and leadership. I am very grateful for the time I have had with this industry, but what was missing for me were the children. Every time a child came into my store I lit up! My manager told me ...

Cassie
Currently living in:
Ogden, UT
I have been a nanny for two families. One that consisted of a one year old, seven and eight years old. And the second was a infant, two years old, five and seven years old. I took care of meals, light cleaning, and educational aid. I also provide rides to and from activities. I do crafts and things ...

Jill
Currently living in:
Sunset, UT
I was a nanny for 2 years and I have worked in child care centers for 10 years. I created lesson plans, did arts and crafts, taught basic pre K skills, made and served meals, housekeeping, laundry,took kids to activities, loved and cared for children.

Karlie
Currently living in:
Washington Terrace , UT
I helped with a neighbors day care/ pre school all through out growing up. I currently work at a school as a special education paraprofessional for kindergarten-fifth grade.
Mikayla
Currently living in:
Syracuse, UT
I grew up babysitting my baby cousins. I also am currently a nanny for another family.

Heather
Currently living in:
Sunset, UT
Being the 3rd oldest of 9 children I helped take care of a everything growing up; diaper changing, cooking, feeding, cleaning, etc. My Aunt did daycare out of her home, and I loved to help her out whenever I could. I started babysitting other families when I was 12 and since then I have been very ...

Next Page >>