Next Page >>
Showing 1 - 10
»
Nannies Near 91701
Kyong
Currently living in:
Rancho Cucamonga, CA
Excellent,exciting,I love to work with children. Nanny for twins, it was a challenge. And would do it again.

Amanda
Currently living in:
Montclair, CA
HellO, My name is Amanda I studied psychology and I had the opportunity to work with children for a long time. I can teach your baby Spanish and a little french and japanese if you want too. I will be glad to talk to you for an interview. I was working in Pittsburgh as a nanny and you can call th...

blair
Currently living in:
Norco, CA
I worked at a daycare for 4 years, working in all age groups but mainly with infants and toddlers. Left the daycare to Nanny full time for a family and was with them for 7 years.
Ashley
Currently living in:
Lynwood, CA
I have done everything from travel to complete childcare.
Debra
Currently living in:
Sunny Mead Ranch , CA
I love children. I raised two beautiful sons. They are great fathers now and I have three beautiful grandchildren . Family is very important to me. I have currently been a live in nanny for the past 2 years for 2 children. The job is ending and I will be available May 24,2015. Thank you.

Dunia
Currently living in:
Pomona, CA
I have been whit family for over 14 years i star working for her when she was expecting her 2 child.no the child is almost 20 years old

Brenda
Currently living in:
Phelan, CA
A mother of five productive grown child and nine grandchildren, 48 years of child care and a child care home license with the State of CA. (Live Scanned background check) TB, DTAP +CPR/FirstAid certified volunteering in our school district and have been a live in nanny, have great references.

Edith
Currently living in:
Eastvale , CA
I currently work for a military family in Temecula, caring for their 1 year old son and his 3 year old brother. They will be moving away at the end of June so I am actively searching for a new family for whom to care for when my time with this family sadly comes to an end. I have worked as a ...
Benazir
Currently living in:
Riverside, CA
Hello my name is Bea. I love kids and would love to take care of them. I helped my sister raise my nephews for 6 years. they were ages 2,4, and 7 when I moved in with them. I am very responsible, reliable, and honest person.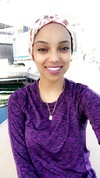 Monica
Currently living in:
Azusa, CA
I used to work as a teacher first, then I worked as a nanny for one of my former students for a year.
Next Page >>