Next Page >>
Showing 1 - 10
»
Nannies Near 21122
Anna
Currently living in:
Baltimore, MD
I took care of my daughter as a single mom, working full time as a teacher. My daughter is now 31, she is married, well educated with graduate degree and a good person. I am proud of her because it is my achievement that she had a safe, happy life with my support and reasonable expectations from ...
Patricia
Currently living in:
Odenton, MD
I have cared for children of all ages for many years. I have ran my own Daycare/Preschool for 20 yrs., and have nanny experience as well as Teaching experience. I am currently working in a Preschool. I am current on CPR and First Aid Certifications.

Isabel
Currently living in:
Arnold, MD
I have been a nanny for over 17 years, taking care of children from newborn to school age.
Mariama
Currently living in:
Middle River, MD
my first childcare was when I was 12. I was a nanny of a infant baby girl and a 3 years old. I bath them, feed them, help the 3 year old study and picked her up from school every day. I cooked, clean, and make sure everything is alright until the parents came home. I used to take them to the ...
Taylor
Currently living in:
Annapolis, MD
Ever Since my freshman year of high school I have babysat for many families with children from ages of 1 to 10. I loved that very much. Then for 2 summers I was a camp councilor at Camp xx. Each week of camp I would take care of 10 girls at a time. Then finally, the last two summers, I was a pre ...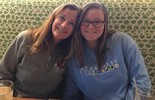 solange
Currently living in:
Beltsville, MD
It was good because I know working with children requires a lot patience and you will obviously meet some with difficult behavior
Kiera
Currently living in:
Dundalk , MD
I have 9 nieces and nephews total that I've cared for, along with 2 god daughters. Outside of the children I've cared for who are apart of my family, I've cared for 4 other small children who ranged from ages 2-7. I take the kids outside on nice days, and help with homework. Also I cook, play ...
cecilia
Currently living in:
Laurel, MD
it was interesting because i loved every bit of it. children give me so much joy. they are energetic and so fun to be with

Kira
Currently living in:
Millersville, MD
Most recent job through August ...

Danielle
Currently living in:
Hanover, MD
Just finished being a nanny to two children. (7 year old boy and a 4 year old girl) Occasionally watch a friends 8 year old girl, and supervise her 14 year old boy when she needs a break. Few babysitting jobs, here and there when friends need a date night.
Next Page >>