Next Page >>
Showing 1 - 10
»
Nannies Near 32801
Caley
Currently living in:
Winter Park, FL
I am currently studying to take my professional educators exam for I have completed all classes towards my elementary education degree at UCF. I have interned in classrooms of over 20 students from kindergarten to 6th grade. These classrooms included students with behavior problems, disabled ...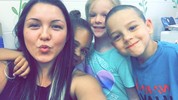 Linda
Currently living in:
Orlando , FL
Yes I have 3 kids all grown and 2 grandsons. I have been taking care of kids since I was 16 I am 49 years old now so yes lots of experience
Brittany
Currently living in:
Maitland, FL
Hi, My name is Brittany and I'm interested in helping you out with your family. I am 32 years old and have over 15 years of nannying, babysitting, and family assistant experience. I am also a Certified Medical Assistant so I am CPR and First-Aid certified as well. I enjoy being with babies and kids...
Autumn
Currently living in:
Orlando, FL
My training in infant care covers full care including feeding (breast milk/formula), bathing, diapering, soothing (5 S's), swaddling, holding, burping, nutrition, illnesses and more. In addition, I am aware of developmental milestones and how to stimulate and encourage learning with natural play. My ...

Caridad
Currently living in:
Kissimmee, FL
-10 years as a Nursing Assistant ...
Dalitza
Currently living in:
Orlando, FL
Children love how I am able to relate to them. They can always open up to me comfortably.
Nalini
Currently living in:
Winter Garden, FL
On a usual day , prepare breakfast, feed child, , take out to park or playground. Bathe child, have some playtime, read a book,prepare for lunch and feed child , put down child for a nap , do children laundry, and tidy up.
Arielle
Currently living in:
Orlando, FL
I have babysat for more than 15 years. I have been involved in church nursery and children's church for years. I assisted in my mom's daycare for about seven years. I traveled with a band watching three girls on several occasions. I was a volunteer in an infant orphanage in the Philippines. I ...
Katura
Currently living in:
Orlando, FL
Since I turned 6 I was the one my family came to for help with there new born, toddlers, etc. Once word git out I was the nanny And substitute for my whole city by the age of 16 And since then is been a passion to help caring for family that need some assistance, we all need help sometimes. Its my ...

Heather
Currently living in:
Orlando, FL
Hi my name is Heather. I have a Bachelor's Degree in Early Childhood Education. As a teacher, I have worked with children of all ages including infants and children with special needs. As an experienced nanny with more than 10 years working here in Central Florida, I have enjoyed several long ...
Next Page >>