Next Page >>
Showing 1 - 10
»
Nannies Near 94549
Kami
Currently living in:
San Ramon , CA
I've worked with children of all ages. I worked for over a year in after school care for K-5. I also worked in two preschools for over 2 years for children aged infant through Pre K.
charlotte
Currently living in:
Benicia, CA
Throughout my whole life I have grown up with babies and toddlers all around me. I have been a nanny for a 3 month old baby until she was 12 months old. I have cared for a family with 3 kids ages: 2,3, and 5. I am an occasional babysitter to many families.

Gabriella
Currently living in:
Pacheco , CA
Hi my name is Gabriella 22 year old I have worked with kids for the last 8 years . I have expierience wirh kids all ages staring at 4week old till 12 years old
Anabell
Currently living in:
Vallejo, CA
I have experience with babies up to children about 12 years old. i also, have experience with working with special needs children. i work as a teacher's aide in a special needs class for a year.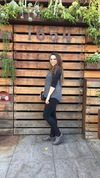 Antoinette
Currently living in:
Hercules, CA
My most recent job history working with children, was I just finished working at a xx camp as a Unit Counselor for the summmer and before that I was a Live-in Nanny for 3 little girls ages 3-9. I've been a camp counselor about 5 times in total as well as working at a place geared towards children.

Daniela
Currently living in:
Oakland , CA
Live in nanny of 3 and 8 years old kids Live in nanny of 9, 3, 2 years old and a 4 months old kids Live in nanny of baby 4 months boy Live out nanny of a 16 months boy

Natalie
Currently living in:
Whittier, CA
While working on my B.A. in Child Development, I was working with infants and toddlers (for about 4 years). Occasionally, I'd work with school-aged children during those years and more recently (the past 2 years) I work with school-aged boys on the Autism Spectrum. ...

Ashley
Currently living in:
Clute, TX
I have 10+ years of experience with newborns to 13 year old children. From family kids, family friends kids and other families. Every family that I worked for was amazing, but I did not feel like they appreciated me or made me feel like a part of the family.

Gabriela
Currently living in:
Palo Alto, CA
I have 7 years of experience with different ages. I play games and have story time with kids. I make sure to include vegetables in every lunch and dinner meal. I love open communication between the parents and myself. If I feel uncomfortable in any way I will be sure to let you know and I hope you ...
Leslie
Currently living in:
Pacheco, CA
I've been watching kids since I was 16. I didn't really start helping out extra until about 10 years ago and I was more permanent. I was recently a live in nanny for about a year. I just moved to California and I miss being around kids. I had fun with all the little ones I watched. We went ...
Next Page >>