Next Page >>
Showing 1 - 10
»
Nannies Near 94942
Anne
Currently living in:
Tiburon, CA
Twenty years exp. with single and multiples of newborn, Infancy and upwards, in live-in and live-out positions as well as care in one and two parent households, which included bi-coastal responsibilities, due to death or divorce, as well as travel.
Sabrina
Currently living in:
Sanbruno, CA
Worked for five years in a daycare/ preschool and a mother of two grown kids
Dottie
Currently living in:
Media, PA
I have worked for over 20 years as a nanny. One family in PA and one family in CA. Both had two children, whom I began to watch as infants until older children. I am still in touch with both families.
Valerie
Currently living in:
Santa Rosa, CA
I have been working with children in their homes,my home,or in a school setting, for 18 years.

Cesca
Currently living in:
Sausalito, CA
I have Cared for children many years.I have a verifiable resume'. I was a preschool teacher,trained and educated through one of the top schools in the nation.
Aida
Currently living in:
Atherton , CA
I have worked as a nanny/baby nurse for several families taking care of them changing diaper,comb their hair , stay up all night , assist the baby always. as a nanny , i play, pick up their toys, feed them etc...
Courtney
Currently living in:
San Francisco, CA
8 years full time nannying, live in and out for infants, children, and teens! I'm fully knowledgable in RIE and CLW, and have worked with high end and high profile families, traveled internaitonally and nationally with families, and work with household staff.

Suli
Currently living in:
San Francisco , CA
Been working with twins for 4 families
Yvette
Currently living in:
San Rafael, CA
I cared for families with 2-3 children for about 0-1 years total and I volunteered at a school as a kindergaten aide for about 4 months. My specialties include arts and crafts, snack, meal preparation, and nap time. I can also drive a vehicle and was thought of as very loving and fun yet appropriate ...

Gemma
Currently living in:
Richmond, CA
I started mother's helping when I was eleven, babysitting when I was thirteen, and I worked during the summers at a daycare for four years.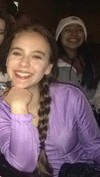 Next Page >>