Next Page >>
Showing 1 - 10
»
Nannies Near 32751
Rafaela
Currently living in:
Orlando , FL
I did a vollunter work in Brazil in a daycare full time. Also I came to USA to be an aupair for 6 months.
Meletta
Currently living in:
Orlando, FL
I've made sure they eat if they parents want them to bed early , I would make sure that done , if told not to give kid something ,I listen and play by the rule because there a,reason for everything . Have story time , play games .

barbara
Currently living in:
Orlando, FL
I have been a preschool and Elementary School teacher both abroad and in the United States for about 20 years, I also took care of foster children ranging from birth to seventeen. and my husbands two children

Maria
Currently living in:
Waldorf, MD
My mother has owned her own day care since 1992, the year I was born. Since I was about 7 years old, I've always helped my mother with the daycare kids. We have had children from 6 months old to 12 years old. We watch kids Monday through Friday, sometimes on weekends if the parents ask us. The most ...

Lacey
Currently living in:
Winter Garden, FL
I am a mother of 3 and have been caring for children since 2002 I started in school in a classroom with children that had special needs and from there got a few volunteering gigs and then later developed to paying jobs.I also have cleaning experience and good references.
Nora
Currently living in:
Deltona, FL
I just left an amazing family I was with for two years in Sarasota FL. I moved to Deltona FL in order for me to be closer to my church. My employer has offered full references upon request. Before I moved to Florida,I was with a family for two years as well. References available from them as well. I ...
Caley
Currently living in:
Winter Park, FL
I am currently studying to take my professional educators exam for I have completed all classes towards my elementary education degree at UCF. I have interned in classrooms of over 20 students from kindergarten to 6th grade. These classrooms included students with behavior problems, disabled ...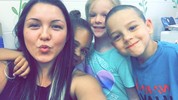 July
Currently living in:
Longwood, FL
I am an educator and I have 3 beautiful children that I love, and everything related to children interests me, I love their sweetness and innocence and I would like to be part of that beautiful experience of their childhood

Sofia
Currently living in:
Orlando , FL
I've worked at a daycare for two years and have experience with children ages 3 months- 8 years. I work very well with children and get along with them. I have also casually babysat for many families. I have more than ego ugh experience to care for children of all ages.
Amy
Currently living in:
Lake Mary, FL
Hi, my name is Miss Amy. I am from Rochester, MI but moved to sunny Florida 38 years ago. I have been residing in the Lake Mary area for the past 20 years. I come from a large loving family which probably contributed to my love of children. I started babysitting when I was 12 years old. I continued ...

Next Page >>