Next Page >>
Showing 1 - 10
»
Nannies Near 94550
Natalie
Currently living in:
Whittier, CA
While working on my B.A. in Child Development, I was working with infants and toddlers (for about 4 years). Occasionally, I'd work with school-aged children during those years and more recently (the past 2 years) I work with school-aged boys on the Autism Spectrum. ...

Esperanza
Currently living in:
San Jose, CA
Love to be around kids,Iam a friendly person loving caring, enjoy being around kids. Treat others how I would like to be treated

Jaine
Currently living in:
San Leandro, CA
My childcare experience began with my younger siblings and I became the neighborhood babysitter at age 12. I have been employed as a nanny and as a Houseparent for non-profit organizations. I have also volunteered at a children's hospital and in church nurseries. My own children are adults and I ...

Gabriela
Currently living in:
San Carlos, CA
I have worked as a nanny for many years, I worked as a preschool teacher and in the past I ran my own daycare for a year.
Antoinette
Currently living in:
Hercules, CA
My most recent job history working with children, was I just finished working at a xx camp as a Unit Counselor for the summmer and before that I was a Live-in Nanny for 3 little girls ages 3-9. I've been a camp counselor about 5 times in total as well as working at a place geared towards children.

Zacil
Currently living in:
San Josť , CA
I love kids I worked in a kindergarden as a teacher assistant.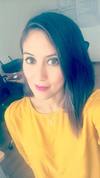 Ashley
Currently living in:
Clute, TX
I have 10+ years of experience with newborns to 13 year old children. From family kids, family friends kids and other families. Every family that I worked for was amazing, but I did not feel like they appreciated me or made me feel like a part of the family.

Emma
Currently living in:
Manhattan , KS
I have been working/managing where I have also had the pleasure of teaching swim lessons! I have taught all ages, including a parent tot class. I also have had the honor of teaching a deaf & blind child, who taught me so much about perseverance and trying your hardest. From this I received employee ...

irma
Currently living in:
Pleasanton, CA
i care 2 kids 1 boy and 1 girl, for 1 years and after I care 5 kids 4 girls 1,3,4,6 years and 1 baby boy.
Andrea
Currently living in:
Half Moon Bay , CA
I've work as a PA/Nanny for over 10 years. I have experience with newborns though 13 and up. I am also a mother and now my son is in college pursuing a BA Degree in Criminal Justice. I have experience in how to soothing a baby, recognizing acid reflux and any other health issues. I enjoy teach ...

Next Page >>