Next Page >>
Showing 1 - 10
»
Nannies Near 02108
Anadir
Currently living in:
Everett, MA
I was work as a nanny for abut 14 years
Alexsandra
Currently living in:
Malden , MA
I work as a nanny share for almost 3 year. I started with them they were 3 and 4 months old. We have a great time together. We took walks, went to the library, museus, playground, zoo, all that age appropriate. They both started school so they didn't have enough hours for me.
Teri
Currently living in:
Raynham, MA
In home daycare, mothers helper, raised 3 of my own and a foster child, live in Nanny to an autistic 5 y.o. and 3 y.o.brother. Cared for 3 siblings ages: 10,7,2.5 and another family w/3 siblings: 6, 3 and 1.
Giana-Carla
Currently living in:
Woburn, MA
I have experience working at a summer camp, babysitting my family members and neighbors children. ...
Arianna
Currently living in:
Everett, MA
Currently working as an infant teacher at a xx center. As an infant teacher, you are required to care for up to 7 infants, as young as 6 weeks up to 15 months. We are responsible for feeding, changing, putting to sleep, doing activities and projects, and of course caring for them the best we can.

Katie
Currently living in:
Swampscott, MA
I have been a nanny for over 20 years . I have a lot of experience with infants and toddlers. I have mostly been a nanny but I have also worked in daycare in the infant and toddler rooms.
Sharon
Currently living in:
Boston, MA
Hi my name is Sharon I've has been in the childcare field for over 15 years including a son of my own. I have taking care of many young infants, toddlers till the ages where they've been old enough to attend school.
joan
Currently living in:
Brockton, MA
My current position will be ending! 2016-2017 worked for a family with three children, 6yr old girl and a set of twins (girl & a boy) 12 Yrs old with special needs! Just about all my jobs has included pets! Prior to this I worked for several years caring for two children 4-12yo. In 2012-14 I worked ...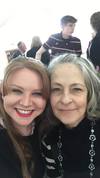 LAUREN
Currently living in:
Brighton, MA
I have 3 years post-graduate experience working in the South End with youth of all ages in a non-profit setting doing outdoor adventure activities and summer camps. I have experience providing care for my cousins' children (newborn and ages 2 months, 5 years, and 12 years) including overnight care ...

Sofia
Currently living in:
Revere, MA
I have a special heart for young kids/infants. I see them as our future and just need Guidons and someone who believes in them. Allowing them to make mistakes will only help them grow so much better. I love seeing kids that I have took care of so happy, playful and full of energy. They kept me going ...

Next Page >>