Next Page >>
Showing 1 - 10
»
Nannies Near 02467
Teri
Currently living in:
Raynham, MA
In home daycare, mothers helper, raised 3 of my own and a foster child, live in Nanny to an autistic 5 y.o. and 3 y.o.brother. Cared for 3 siblings ages: 10,7,2.5 and another family w/3 siblings: 6, 3 and 1.
Anadir
Currently living in:
Everett, MA
I was work as a nanny for abut 14 years
Giana-Carla
Currently living in:
Woburn, MA
I have experience working at a summer camp, babysitting my family members and neighbors children. ...
Alexsandra
Currently living in:
Malden , MA
I work as a nanny share for almost 3 year. I started with them they were 3 and 4 months old. We have a great time together. We took walks, went to the library, museus, playground, zoo, all that age appropriate. They both started school so they didn't have enough hours for me.
LAUREN
Currently living in:
Brighton, MA
I have 3 years post-graduate experience working in the South End with youth of all ages in a non-profit setting doing outdoor adventure activities and summer camps. I have experience providing care for my cousins' children (newborn and ages 2 months, 5 years, and 12 years) including overnight care ...

Flora
Currently living in:
Hudson, MA
I am currently working in a special education program for a middle school. I have been with the same school district for ten years, in a range of grade levels. I have 20 yrs of infant to pre teen experience in childcare.

Sharon
Currently living in:
Boston, MA
Hi my name is Sharon I've has been in the childcare field for over 15 years including a son of my own. I have taking care of many young infants, toddlers till the ages where they've been old enough to attend school.
Irina
Currently living in:
Manchester, NH
Worked as a nanny for a families with two kids ages from three month to six years. Worked at a Day Care in Newton, MA.

donna
Currently living in:
Newton, MA
when my children were younger I was a licensed Home Daycare Provider. Then I worked as an assistant in a Home Daycare, then became a nanny
joan
Currently living in:
Brockton, MA
My current position will be ending! 2016-2017 worked for a family with three children, 6yr old girl and a set of twins (girl & a boy) 12 Yrs old with special needs! Just about all my jobs has included pets! Prior to this I worked for several years caring for two children 4-12yo. In 2012-14 I worked ...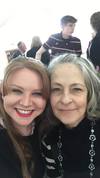 Next Page >>