Next Page >>
Showing 1 - 10
»
Nannies Near 28201
Linda
Currently living in:
Charlotte, NC
I have experience taking care of children ranging from 2 to 12years old. I took care of them by feeding, playing, teaching, tutoring, laundry, cooking, potty training them. I have been taking care of children for over 8 years now.
Kezia
Currently living in:
Charlotte, NC
I was a Youth Pastor and I worked for a before and after school program. I worked for a wonderful family of 4 who's ages were 1,3,7,10 and they were great to work with! I also worked for a family for 4yrs. with a child with Down Syndrome. Now I run a small daycare from my home and have been doing ...

Lisa
Currently living in:
Charlotte, NC
I have cared for children as young as 2 months old. I enjoy reading,singing, outdoor activities and other activities with children.
Heather
Currently living in:
Cornelius , NC
I have been a nanny for two families. My first nanny job was with a family of two children. I started off watching a 6 month old, where I had to change diapers, meal/snack prep, early developments (crawling, walking, talking, reading). I helped potty train her as well. Her brother came along and I ...
Lucille
Currently living in:
Matthews, NC
2 years Preschool Teacher 3-5 yr. olds 30 years Director of Childcare Centers ages 6 weeks through 6th Grade

Michelle
Currently living in:
Charlotte, NC
I have babysat since I was a teenager. In college and in the summers when I wasn't in college I worked for child care center or summer camps with children ages birth through 12. I was a public school teacher for 17 years.(During that time I was a "nanny" for a family with three children ages 4,6,8 ...
kathryn
Currently living in:
Waxhaw, NC
I have 9 siblings and have had childcare experience since I was a child myself! I have watched children of all ages for about 5 years.
Lauren
Currently living in:
Charlotte, NC
For 5 summers I volunteered as a Dance Camp Counselor, working with children aged 3-8. I led them in activities such as dance, art, and drama, as well as overseeing lunch time. Two summers ago I interned with an organization, where I donated books and spent time reading to at-risk children in the ...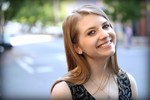 Candena
Currently living in:
Charlotte, NC
Have worked at Bright Horizon learning Garden as the cook. I have worked with the xx after-school program with pre-teens. I Have Been a Nanny for a family for 4 children for 6 years.
Katie
Currently living in:
Harrisburg , NC
I have many years of experience in babysitting, nannying, children's church, was a dental assistant for a pediatric office for years
Next Page >>