Next Page >>
Showing 1 - 10
»
Nannies Near 60110
Ruth
Currently living in:
Elgin, IL
While I have never been paid to care for children, I have cared for large groups of children ages 3-16 through my immediate and extended family. I also babysat for groups of children at my church ages 2-11
Ana
Currently living in:
Hoffman Estates, IL
Provided infant care until he was 5 years which includes but not limited to routine feeding, diaper changing, story time reading, library visits, walks in the park, and showing attention to the child.
Anna
Currently living in:
Mount Prospect, IL
I took care of 2 of my nephews for a few years before they went to school full time. One has special needs. He is wheelchair bound and has a feeding tube. I have experience with nasogastric and gastric feeding tubes.
Hanna
Currently living in:
Chicago, IL
I have been working with families pass 10 years. I have big experience with all ages of kids. I workd with one family for 6 years and been there when 2 kids were born. If you interested in live in nanny please contact me. I may have solution for you and your childcare needs.
MARILOU
Currently living in:
Elgin , IL
10 years experience of child care in Hong Kong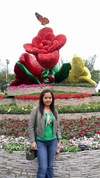 Dawn
Currently living in:
Hoffman Estates, IL
My name is Dawn. I have been a nanny for 20 years, all of my positions have been long term with the longest being 7 years with a single family. I have cared for children between the ages of newborn to 16 years old. I have cared for children with different disabilities including ...
Kelly
Currently living in:
Algonquin, IL
I have watched children from infancy all the way up to middle school. Handled pickups drop offs, changing diapers, meal prep, getting to activities on time, assisting with homework, and keeping the children active and engaged throughout the duration of my scheduled shift
Jamie
Currently living in:
Barrington, IL
In my 11 years of childcare I have gained copious amounts of experience from daycare to in home care. I have taken early childhood education courses, I'm CPR/First Aid/AED Certified, have a clean criminal record, and reliable transportation. I describe my care-giving as ...

Adrienne
Currently living in:
Lakewood , IL
I've worked with children as a preschool teacher and home daycare provider for over 15 years. I've been babysitting for over 30 years.

kaila
Currently living in:
Elgin, IL
I have provided babysitting and nannying services over the past 10 years for children as young as 6 months to about 10 years old. I'm looking for something more long term right now as I'm looking to leave the corporate world.
Next Page >>