Next Page >>
Showing 1 - 10
»
Nannies Near 85246
Judith
Currently living in:
Tempe, AZ
I had a very happy childhood. I came from a big christian family, who loved to sing and play musical instruments

Janell
Currently living in:
New York , NY
11 years of Nannying 17 years experience in childcare
Rhonda
Currently living in:
Millstadt , IL
I have worked for two families in North Scottsdale with childern from the age of 13 months to 9 years old.I am a Special Education major, and have a fingerprint clearence card through the state of Arizona. I work well with childern, patient and know what is needed to care for them.
MarLi
Currently living in:
Phoenix, AZ
I am currently a morning pre k teacher in Mesa, AZ. I have 6-13 kids in my class. I am able to teach them manners, math, colors, shapes, etc. I love each of my kids and love watching them grow. For two years I have worked as a nanny in Hawaii! I have watched children on there vacation time taking ...

Melanie
Currently living in:
Hammond, IN
I started babysitting at age 12. I am currently babysitting for 1family on my spare time. I have babysit for the family for over 16 years. My experience includes infants and up.
Kazuyo
Currently living in:
Phoenix, AZ
I've always been a fun, very nurturing & loving mother to my children and that's what I intend to do as a nanny/caregiver. Teaching manners and how to respect others are also very important elements in my care giving skills. I have a very close relationship with both of my daughters and I've always ...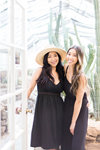 Erika
Currently living in:
Chandler, AZ
My passion for working with children began over 10 years ago, working for a family that had 5 children with Autism Spectrum Disorder. Over the years, I continued working in home care with children of varying ages and functionalities, with developmental and learning disabilities.
Jessica
Currently living in:
Tempe, AZ
I am the oldest of 4 children. My youngest sister was born 11 years after me and I often took care of her and my other siblings. I have a lot of babysitting experience. Additionally, I took care of a cute 7 year old boy while living in Italy for a few weeks the summer after my sophomore year of ...
Laurene
Currently living in:
Phoenix, AZ
I did have raised my two children, my niece as my daughter, my partner three kids, my ex-husband two daughters, I also have worked as a nanny for a family in Dallas where I was in charge of the home and the children, the parent never were there, also in Scottsdale for a family with a 1 years old ...

Natasha
Currently living in:
Mesa, AZ
Took care of all the neighborhood kids while their parents were at work. I was a nanny to two 5month old twins till they were 1 years old.
Next Page >>