Next Page >>
Showing 1 - 10
»
Nannies Near 94709
Kaitlin
Currently living in:
Martinez, CA
I have over 10 years of nannying and babysitting experience. I have experience caring for up to 4 children at once from newborns to teenagers. I have experience picking kids up from school, taking them to activities, helping with homework and snack and overseeing chores. I also have experience with ...
Christine
Currently living in:
Oakland, CA
I provided childcare for children aged 3 months - 5 years old for ten years. I attended to children's basic needs by feeding, dressing, changing diapers, outdoor and indoor activities,maintained a clean and safe home environment that children grow happy and healthy. Also performed other duties as ...

Yvette
Currently living in:
San Rafael, CA
I cared for families with 2-3 children for about 0-1 years total and I volunteered at a school as a kindergaten aide for about 4 months. My specialties include arts and crafts, snack, meal preparation, and nap time. I can also drive a vehicle and was thought of as very loving and fun yet appropriate ...

Antoinette
Currently living in:
Hercules, CA
My most recent job history working with children, was I just finished working at a xx camp as a Unit Counselor for the summmer and before that I was a Live-in Nanny for 3 little girls ages 3-9. I've been a camp counselor about 5 times in total as well as working at a place geared towards children.

James
Currently living in:
Newark, CA
I work extremely well with children, as I've been a teacher for over 20 years. I've also been a foster parent, Big Brother, and tutor.
Daniela
Currently living in:
Oakland , CA
Live in nanny of 3 and 8 years old kids Live in nanny of 9, 3, 2 years old and a 4 months old kids Live in nanny of baby 4 months boy Live out nanny of a 16 months boy

Gemma
Currently living in:
Richmond, CA
I started mother's helping when I was eleven, babysitting when I was thirteen, and I worked during the summers at a daycare for four years.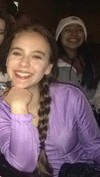 Leticia
Currently living in:
Union City, CA
Past child care experience has been nothing but Amazing and rewarding! Being a part of different parenting values and maybe even being an extra form of support for new families or being the encouragement.

Laisa
Currently living in:
Oakland, CA
I have 12 years experience taking care of children from infant twins, toddlers to young teens. My main function when taking care of someone else's home and child is to make sure everything is to the parents standards. I only implement rules and boundaries set forth by parents as they know what is ...
bonnie
Currently living in:
Alameda, CA
25 years of experience with all ages from infant to elderly. masters degree
Next Page >>