Next Page >>
Showing 1 - 10
»
Nannies Near 21201
Anna
Currently living in:
Baltimore, MD
I took care of my daughter as a single mom, working full time as a teacher. My daughter is now 31, she is married, well educated with graduate degree and a good person. I am proud of her because it is my achievement that she had a safe, happy life with my support and reasonable expectations from ...
Preche't
Currently living in:
Baltimore , MD
All of my childcare experiences have been great! I'm great with children.
Kristen
Currently living in:
Timonium, MD
As a childcare professional with over ten years experience, I have worked with newborns, toddlers, preschoolers, school-age children, pre-teens, and adolescents. My goals as a in-home childcare provider are to stimulate and encourage the child's development. I seek to nurture all aspects of ...

Earlene
Currently living in:
Baltimore, MD
Well beside raising two children 18 months apart of my own. ...
Efua
Currently living in:
Baltimore, MD
March 2013 to March 2015 ...
Nneka
Currently living in:
Baltimore, MD
It was an awesome experience, cos I learnt alot from it ,and I was able to impact good things into a child's life..
Patricia
Currently living in:
Odenton, MD
I have cared for children of all ages for many years. I have ran my own Daycare/Preschool for 20 yrs., and have nanny experience as well as Teaching experience. I am currently working in a Preschool. I am current on CPR and First Aid Certifications.

Safa
Currently living in:
Ellicott City, MD
I moved back to Georgia and 2014. My sister at the time needed some help with her special needs son. He was a true blessing and miracle! He passed away May 29, 2015. Three months later my father passed away from pancreatic cancer. Then God blessed me with my own little miracle, my son will be ...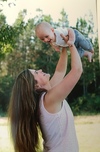 Christina
Currently living in:
Baltimore, MD
As a nanny for two families in Waverly I provided supervision and care for 2 two year old girls beginning August 2012 and ending June 2013 as parents both look for suitable pre-schools. I provide morning/afternoon snack, lunch, change diapers, clean-up after the girls. I also engage the girls in ...
Danielle
Currently living in:
Hanover, MD
Just finished being a nanny to two children. (7 year old boy and a 4 year old girl) Occasionally watch a friends 8 year old girl, and supervise her 14 year old boy when she needs a break. Few babysitting jobs, here and there when friends need a date night.
Next Page >>