Next Page >>
Showing 1 - 10
»
Nannies Near 76001
Donnann
Currently living in:
North Richland Hills, TX
I am a mom of two children, ages 17 and 9. I have been babysitting children since I was a teenager, and more formally as a nanny for the past 12 years. I have had the pleasure of being a long term nanny to two different families. ...

Norma
Currently living in:
Grandprarie, TX
Raised 4 children raised 2 grandkids worked at a daycare in kitchen worker .
Amanda
Currently living in:
Bedford, TX
I've worked with infants through 12 year year olds. I attended all school and extracurricular activities. We had daily routines that consisted of library, park and play dates.
Elizabeth
Currently living in:
Colleyville, TX
I raised my 2 children through college. I owned and operated a licensed home daycare while my children were young. I'm an experienced Nanny/Tutor/Mother's Helper/Personal Assistant/Household Manager. I know how challenging it is to be a working parent. The safety and happiness of your children and ...

Andrea
Currently living in:
Flower Mound, TX
Hi, my name is Andrea. I have more then ten years experience as a nanny, house manager, housekeeper, homeschool assistant, and pet sitter. I have an AAS in Child Development with an Achievement Award in Early Childhood.I've worked with babies, toddlers, young children and youth; twins and ...

veka
Currently living in:
Fort Worth, TX
I am proactive, talkative, flexible, honest, happy. I hope to have an opportunity to take care of your family, as caring for people has always been my passion. I raised 2 college educated children myself and have always taken pleasure in cooking, cleaning and making sure the children are well ...
sonia
Currently living in:
Plano, TX
11 years boy,very sweet,picup from school,go home or actities,play out,read,etc Snake meal preparation wash clothes etc.

Josiane
Currently living in:
Haslet, TX
I cared for a small boy and an infant girl when I was in college. I was responsible for caring for the two children and keeping the house in a presentable condition along with doing the laundry.

Brittany
Currently living in:
Hurst, TX
I have held many babysitting jobs over the last 10 years watching children of all ages. I have also worked in a preschool setting for 5 1/2 years and in a church nursery setting for about 7 years.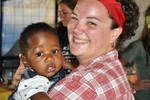 hada
Currently living in:
Fort Worth, TX
Ive worked for a family a year.. or more

Next Page >>