Next Page >>
Showing 1 - 10
»
Nannies Near 50009
Rylee
Currently living in:
Ankeny, IA
Ive been nannying for a family since August on the weekends.
Kaitlyn
Currently living in:
Ames, IA
I work in a childcare center as well as I have part time nanny experience and side babysitting jobs.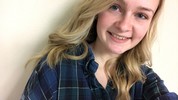 Dalia
Currently living in:
Des Moines , IA
I have 4 years of experience working with infants, toddlers, and adolescence. I am comfortable with all ages of children and children with special needs. I was previously employed at a child development center and worked with children between the ages of 6 weeks old up to 7 years old. Being a mother ...
Amy
Currently living in:
Ames, IA
I've spent the past seven years employed at a baptist church in Ames, where I've taken care of anywhere from one tiny baby to seven or eight infants/toddlers. I grew up in a family of 10 and often had to care for my two younger siblings, as well as doing a lot of cleaning and some cooking to help ...

Kim
Currently living in:
Urbandale, IA
I have nannied for two years for a family of three. I also currently nanny for a family of one, one day a week, and a family of three everyday after school. I have babysat for many years for all ages of children. I have also worked at a childcare at a YMCA for infants up to 5 years old.

Nikita
Currently living in:
Pella, IA
I have babysat for family and friends of the family/etc since I was 12 years old. I have had anywhere from 1 child to 8 children at a time. I had a nanny job after high school for two years caring for four children ages 2 weeks-8 years. I worked in a daycare/learning center for almost two years in ...

jasmine
Currently living in:
Des Moines , IA
Previous nanny .watched 1 or more at a time, cooked breakfast lunch and sometimes dinner, changed diapers made bottles or prepare breast milk, play time, learning time and also potty training ,nap time if parents liked and most of all loved every child as they were my own.
alyssa
Currently living in:
Des Moines, IA
Regular Babysitter for a family of 4 2010-2013 Full time nanny for 2 boys 2014-2015 Part time nanny for family of 3 2016

Crystal
Currently living in:
Altoona, IA
I have over 13 years of experience babysitting and nannying. I have also done in home care with children and adults (with and without special needs). I have given baths, feedings, cooking, cleaning, traveling, laundry, helped with dressing, oral care, health care, reading, teaching children ...

Andrea
Currently living in:
Altoona , IA
I have worked at 2 childcare places in the past, I am currently working full time with children and families of Iowa, in their child development center. I work with 3 year olds and I am an assistant teacher. I have also nannied for a family of 3 girls, I can send you references, and I babysit a few ...
Next Page >>